Saturday, May 05, 2007
Baubles and trinkets.
Oh, this is the life. After my horrendous 72 hours awake, I finally got into bed last night and slept until 6pm today. Now I get to kick back in my lovely,
quiet
flat, read my unloved magazines and drink my Scarlett O'Hara, which I learnt to make over Easter, and is perfect because I only ever drink cocktails with literary associations, or alcohol.
Scarlett O'Hara

1 and 1/2 parts Southern Comfort

1 and 1/2 parts cranberry juice

1/2 parts lime juice

You shake it all up with crushed ice and strain it into your glass.
Of course I couldn't find the strainer so it's more of an alcoholic slushie.


But this is nice. I mean, tomorrow it's roll on work again but relaxing is severely underrated by university students, I think. Including me. Most free evenings in England are usually spent drinking in clubs and generally raving it up, which I always enjoy, but I sort of like vegging out sometimes too.
(Random thought: Does anyone think that I use commas far too much? Whenever I read my essays or my posts, it always looks like I have gratuitous comma - and bracket - use.)

Also by staying in, I found the most incredible vintage pearl ring on Ebay today. I started bidding but it eventually got too hot for me and I disappointingly had to drop out, but from 8.55pm - 9.01pm, I owned that ring. I rarely wear jewellery anymore even though I have what must be the largest collection of shiny objects known to man, but I'm becoming increasingly drawn to pearls (though I think I have a while before I start wearing pearl necklaces).


A little bit of fascinating pearl history:
One of the most famous pearls in the world is called "La Peregrina." It was found in 1500 by a slave in the Gulf of Panama, who gained his freedom by finding it. The Spanish crown owned it and Prince Philip II gave it to his wife, Mary Tudor of England as a wedding gift. It passed it down to Queen Margarita and Queen Isabel (wife of Philip III). Velesquez painted two separate portraits of Queen Margarita and Queen Isabel, each wearing La Peregrina.
In the 1800's the Bonepart family had possesion of it and in 1969 Richard Burton purchased it for $37,000 as a gift for Elizabeth Taylor who briefly lost it at Ceaser's Palace, but then found it in her dog's mouth...or hair.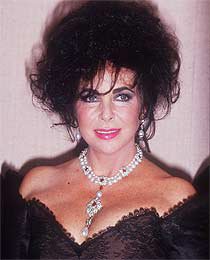 If pearls are being gifted, I'd personally prefer pearls from Mikimoto, even if they didn't belong to someone who had a portrait painted by Velasquez (if you accidentally landed on this blog - though I'm not sure

how

- but
you're more interested in Velasquez than pearls, I recommend you begin with The Rokeby Venus.)

However, I am also definitely willing to accept gifts from
Lara Bohinic.
Labels: designers, famous-types, history, jewellery, random musings, recipes
7 comments